Pickup and Delivery Services
Pickup and Delivery services are performed throughout the Bay Area. Our friendly A and P Records Management staff receives order requests via the web, fax, or phone. Only authorized personnel, designated by the customer signing the agreement, are authorized to make requests of A and P Records Management.
Pickup and Delivery services for any files, X-Rays or cartons are performed Monday through Friday from 8:00am until 5:00pm to and from our Marin County warehouse facility. Special pickup and delivery services, rush orders, and emergency requests can also be accommodated. For more information, please give us a call 415-883-2391 or 800-727-7716 or email us at darinaman@apmoving.com.
Customers can also pickup or drop off files, X-Rays, documents and cartons themselves. A and P Records Management located in Bel Marin Keys at 77 Hamilton Drive in Novato is conveniently 45 seconds from Highway 101 from the Bel Marin Keys exit. Getting in and out of our facility is easy, quick, and efficient.
A and P Benefits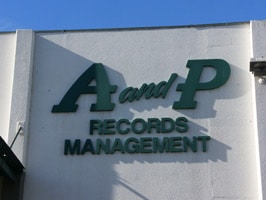 All A and P Records Management employees have gone through a criminal background check.
Records indexing and retrieval for any carton, file, or document
Pickup, Delivery, and Rush services offered.
45,000 square foot code compliant, modern day fire sprinkler systems; and 24 hour security alarm system in place that is directly connected with police and fire departments.
Secure, permanent destruction and shredding of sensitive information done on-site.
Request Your Quote
"*" indicates required fields
A&P serves  
The North Bay Area, Marin and Sonoma County including Novato, San Rafael, Petaluma, Corte Madera, Larkspur, and San Anselmo.